While making my 40 Before 40 List, I brainstormed some additional life experiences I wanted to have but knew I would never fit into the available three years. Hence I made a second list, my 40+ After 40, which I'll share with you today. It's a collection of life and travel experiences I want to have sometime during this lifetime:
Life Experiences for My After 40 List
Adopt a pet
Restart Latin dance lessons
Enter a ballroom competition
Learn a martial art
Ride in a horse-drawn carriage
Attend a ball
Fly first class
Be a movie extra
Take a Segway for a spin
Buy or build my dream home
Try SCUBA
Write an 80K word novel
Publish a book
Make mead
Make wine
Attend an NBA game
Attend an NHL playoff game
Take a sculpture workshop
See Misty Copeland perform live
Go parasailing
Jump out of a plane
Do a mud run
Participate in a flash mob
Have a 5-minute conversation in Spanish
Have a 5-minute conversation in French
Grow my family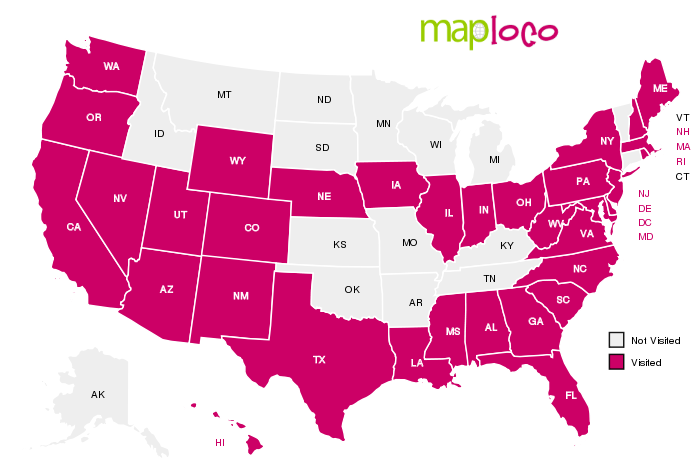 Create Your Own Visited States Map
 Travel Experiences for My After 40 List
Travel to all 50 states (16 to go!)
Visit David Sheldrick Wildlife Trust
Stay at a 5-star resort
Attend Mardi Gras
Visit all seven continents (two to go!)
Live in Europe for 6+ months—again
Live in another overseas location for 3+ months
Visit South Africa
Visit an aboriginal art center in Australia
Cruise the Mediterranean
Cruise and set foot on Antarctica
Visit the Galapagos
Play tourist in Washington, DC – see cherry blossoms, visit museums
Sleep in a castle
Sleep in an overwater bungalow
Visit Alaska
Take a small or private cruise
Visit Caisteal Maol on the Isle of Skye, Scotland
Italy! – Take a gondola ride in Venice, see the Amalfi Coast, visit Sicily, and stand inside the Sistine Chapel
Ride the Rocky Mountaineer scenic train
See the Northern Lights
Attend the Winter Olympics
See the Earth from space
What would you put on your bucket list?
Cheers,

Photo Credit: NASA Earth Observatory image by Robert Simmon, using Suomi NPP VIIRS data provided courtesy of Chris Elvidge (NOAA National Geophysical Data Center). Suomi NPP is the result of a partnership between NASA, NOAA, and the Department of Defense. Caption by Mike Carlowicz.